| | |
| --- | --- |
| 1799 - 1¢ Way Fee + 12½¢ Domestic Rate | British Halfpenny + Spanish Colonial One Real |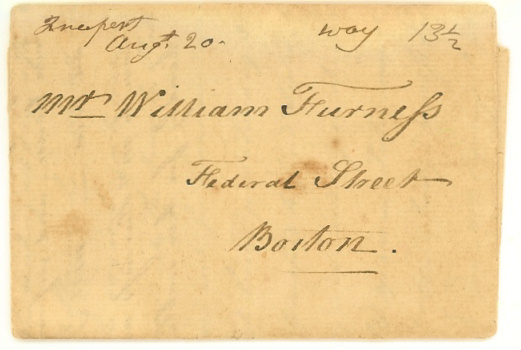 19 August 1799 Woolwich, District of Maine to Boston, Massachusetts
20 August 1799 entered mails as a way letter at Freeport, District of Maine with 13½¢ due
e
A way fee of one cent was added to the postal rate of 12½ cents and paid to the post rider for carriage to the post office.
    
                      
1751 one real coin minted in Mexico City

1749 halfpenny coin minted in England

e
The pillar design one real coin was equivalent to 12½ cents while the British halfpenny circulated at a value of one cent. Some 800,000 of these 1749 halfpennies were shipped to Massachusetts for assistance in the Louisburg Expedition.