About Frajola and Contact information
---
About Richard Frajola
As a brief introduction, I have been involved professionally in philately since 1968. After working for several auction houses, including as a consultant to Sotheby's, I ran my own auction house, Richard C. Frajola, Inc., from 1980 till 1995 (an annotated listing of the catalog contents may be viewed here). Since then I have served as a consultant to several leading auction houses in the United States and served private clients. Please see the my services page.
I first exhibited as a junior collector in the 1966 SIPEX international show in Washington D.C. and exhibited my "Paying The Postage" display at the Washington 2006 show in the court of honor. A book published in 2015, "Mails of the Western Expansion" which I co-authored with Steve Walske, won the Grand the Award at Stampshow 2015 held in Grand Rapids, Michigan. At the New York 2016 International Stamp Show Steve Walske and I were honored to be awarded the Crawford Medal by the Royal Philatelic Society of London for the most valuable and original contribution to the study and knowledge of philately published in book form during the year.
I have also served as an expert consultant to the Philatelic Foundation, Professional Stamp Expertisers and Philatelic Stamp Authentification and Grading (PSAG). I host and moderate the Frajola's Board for Philatelists which is an active chatboard aimed at answering collector questions. Feel free to join us.

I have published extensively since authoring a book on the postage stamps of Siam in 1980. Five new books (see link here) have been published since 2005 and include two available free as downloads ("The Pony Express, A Postal History" and "Mails of The Western Expansion, 1803 to 1861"). I am honored to have been selected as recipient of the U.S. Philatelic Classics Society Stanley Ashbrook Cup in 2005, and the Elliot Perry Cup in 2006, for my philatelic literature contributions. Also, for the Hong Kong Study Circle's Webb Cup in 2006.
I organized and until recentl, hosted an annual Taos Philatelic Rendezvous (TPR) for clients and friends who attended from around the world.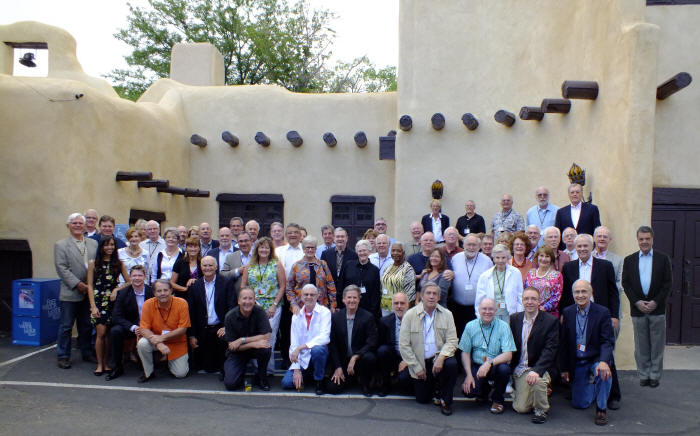 Some of the TPR 2013 attendees
One of my "other" hobbies is large scale model trains. I have an outdoor layout which can be visited here although the pictures are not current.
About Taos
I live in Taos, New Mexico. It is not a desert here but rather a very mild mountain climate. Taos is about 7,500 feet above sea level and is located about one hour north of Santa Fe. It was, and still is, a noted artist colony.
Although I live in Taos, my mailing address is Ranchos De Taos because the post office is more convenient.
Richard C. Frajola, P.O. Box 2679, Ranchos De Taos, NM 87557
email: covers@rfrajola.com phone: (575) 751-7607
---
Richard Frajola (June 2018)