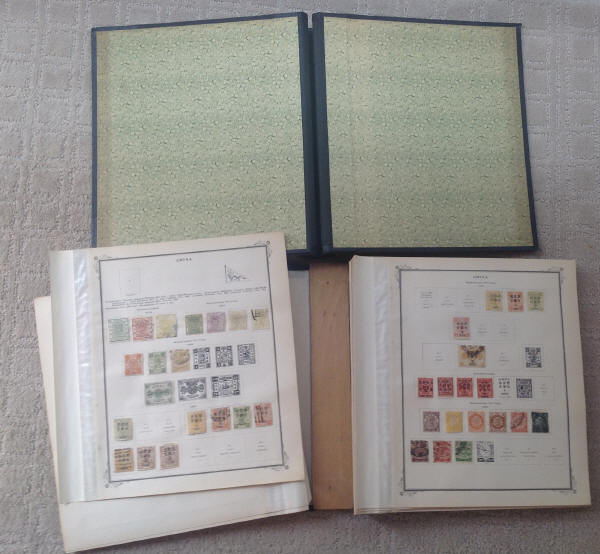 (SOLD) International Postage Stamp Albums (4)
Scott Ne Plus Ultra Albums and Pages, 19th Century

These albums were printed circa 1921 to 1934 and the pages are printed on one side only, with spaces for all stamps then in the catalog. The pages are linen hinged and contained in well-designed spring-back binders complete with wooden stop blocks to keep the pages aligned. Certainly the ultimate album of the era with pre-printed pages for 19th century stamps.

This collection does not include United States, British America or German area pages or stamps. Unfortunately, those sections were removed by original owner and stamps transferred to Scott Specialty albums. Otherwise, apparently complete pages. It does include a particularly nice range of mint and used stamps with strength in mint from 1880s to 1900 as might be expected from a collection built in the 1920s and 30s. Stamps are neatly hinged in place. Mostly very fresh and clean material. A total of 579 pages.

Scanned in sections as listed below with links to pdf files under 10 meg each. Complete PDF file of 130 megs is here.

---
Volume I


27 pages

34 pages

28 pages

28 pages

28 pages

39 pages

Volume II

31 pages

38 pages

32 pages

31 pages

Volume III

29 pages

32 pages

32 pages

27 pages

28 pages

Volume IV

31 pages

29 pages

24 pages

31 pages
---
Richard Frajola (Oct 2017)