| | | |
| --- | --- | --- |
| Postal Stationery Essay | which is also a | |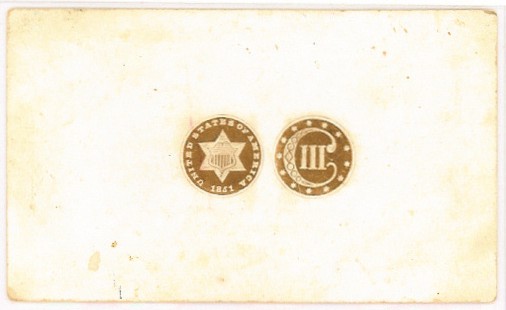 proof impression in orange brown on glazed card design of 1851three cent coin, type I
e
The above proof impression is accompanied by an original signed letter, dated August 17, 1857, of George F. Nesbitt who held the contract to supply imprinted postal stationery to the Post Office Department from 1853 until 1870. A new stationery design was evidently contemplated. The letter to Third Assistant Postmaster General reads in part: "I called at the United States Mint yesterday ... Mr. Longfield (sic. - James Barton Longacre) informed me that there was no Head of Washington at the Mint that he thought suitable for the purpose .... Mr. Longfield recommended the enclosed as a suitable mark for the three cent envelopes."

enlargement of design - the first coin denomination minted specifically to pay a postal rate
e
There is one other example of this essay that is owned by the Library Company of Philadelphia. It is accompanied by a March 24, 1851 letter from Longacre to the Secretary of the Treasury which says, in part: "It is the first impression I have taken from the dies I have been preparing for the three cent piece ordered by congress."