Marc Haas Material on PhilaMercury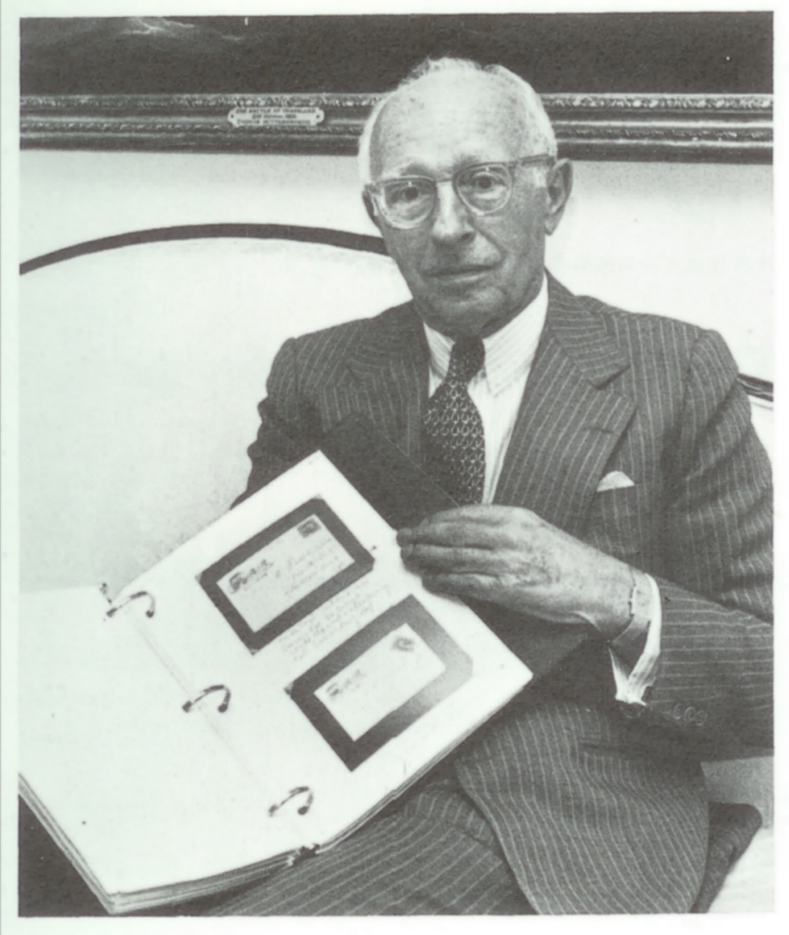 Marc Haas showing photo album circa 1980
Marc Haas covers from the group of material sold to Gibbons are now listed on the PhilaMercury census site under the user id "haascovers." A link to the covers by postmark date is here.
Haas Collection Summary
First, I would like to thank Michael Perlman for scanning, at great expense, all of the slides that had been donated to the Philatelic Foundation. Next, the numerous "describers" who have worked to crop all of the images and enter the information into this census site. These include Matt Liebson, Dave Savadge, Tom Mazza, Gordon Eubanks, Ron Cipolla, Bill Longely, Matt Kewriga, Vince King, Chip Gliedman, and Rick Mingee. Photo of Haas from Gibbons catalog.
A few general notes about Marc Haas and his various collections. The scans that are being uploaded now are from the collection sold to Gibbons in 1979. The photographs were taken by Gibbons for use in their display books that they took to shows, etc. It is my understanding that the set being used was donated to the Philatelic Foundation.

This collection was of US stampless through 1869 issue covers and CSA. Legally the owner was "APE" (American Philatelic Enterprises) and those initials appear on many of the covers followed by inventory number. On the reverse Marc penciled, in two lines or fraction format, the vendor, date of purchase and cost. In his album he mounted these with the APE inventory number, same information ($1,000 listed as "1.0") and his estimate of the current value.

After the sale of this collection, his collecting continued unabated. The new purchases were made by "ADE" (American Diversified Enterprises). Same code and inventory system. Marc re-purchased several "chunks" from Gibbons to jump-start things. These included much of the Western Express, Waterways as well as some CSA and stampless. He also started a new collection of Colonial era postal history.

Marc Haas the Collector
As many of you reading this are aware, I developed a rather close business relationship with Marc from about 1977 until his death in 1990. His philatelic knowledge was widely underestimated. He was a connoisseur of beauty and rarity in many areas beyond philately, including antique furniture and china.

He was extremely knowledgeable in Western Express and history of the West in general. He purchased most of the famed Edgar Jessup collection while Jessup was still alive and always regretted that he didn't clean him out before his estate left the remaining material to his daughter and son-in-law (Basil Pearce). He had previously purchased the King Parker, Jr. collection of California.

I was fortunate to be able to sell privately or at auction most of the collections Marc formed after the Gibbons sale. Many of his mini collections were sold as unidentified sections in my early catalogs (see below). Much of the material I had at Ameripex show in 1986, illustrated in a brochure, was onwed by Haas (or ex Paliafito Magnus patriotics many of which were also ex Haas / Gibbons).
Gibbons Dispersal of Haas Material
A few comments about the Gibbons purchase that was announced by Howard Fraser, Gibbon's CEO on "Good Morning America" show on August 14, 1979. There are many stories about the amount of the purchase price - including a Bierman interview with Marc. None of these correspond exactly with Marc's comments to me as none seem to mention the chateau in Burgenstock, Switzerland that Marc said was included (I am unclear if this was a partial payment with cash credit or an extra).

The total purchase price as reported to me in 2010, was $11,015,000 with an additional $250,000 being sent somewhere in Switzerland. Whatever the actual number, it was considered to be well above the current market value at the time. Albert Semel ('Sammy") valued the material for Gibbons before purchase. After the purchase, the material was originally priced by Semel. Bill Bilden and Bill Lea (the son of "Lea of the Strand" founder) had first pick according to them. Most of the pricing mistakes on the low side were snatched up then - reported at over $1m in purchases. Stanley Gibbons had previously opened a US office and in early 1979 brought Richard Debney over from England to help expand their market presence in the United States. In January 1980 Gibbon's employed Seymour Kaplan to head up the U.S. operations and Louis Grunin was added to the team later. I believe Seymour Kaplan re-priced everything immediately.

Investor packages of large amounts (like 250,000 pounds) were sold by Gibbons. These were typically a range of items selected from each major section of the collection. Many of these collections remained in Gibbons bank vaults with the "owner" paying annual insurance and storage fees. In the years since, many of these wonderful "packages" have hit the market. I suspect a couple remain in bank vaults someplace. Marc Haas purchased several heavily discounted groups.

After selling much of what they could, Gibbons placed material in a series of auctions both in NY (including Siegel) and abroad. They also tried to sell large groups of material to collectors and dealers. For example, George Kramer and I purchased a terrific group of Western Express.
Auctions of ex Haas material:

Prior sale of the stamp collection:
1. "United States Postal History - A Portion of the Marc Haas Postal History Collection" Siegel Sale #561, April 22, 1980
Gibbons owned / Haas auction catalogs:

2. "Selected Items From the Marc Haas Collection" Stanley Gibbons Auctions, May 9, 1980

3. "Selected Items From the Marc Haas Collection" Stanley Gibbons Auctions, April 15, 1981

4. "Classic United States Covers - The Balance of the Marc Haas Collection" Siegel Sale #615, March 15, 1983

Additional Haas Material sold by Richard Frajola at auction:
Below is a list of the most important sections of Haas material that appeared in my auctions. Some material had been re-purchased from Gibbons and added to by Haas. The Colonial mails and Free Franks were new collections and not part of the Gibbons deal. Much additional material, mixed into smaller sections, appeared in other sales.

5. Auction #21 (September 7, 1985) - Haas Waterways (unnamed)
6. Auction #24 (December 14, 1985) - Haas California (unnamed)
7. Auction #27 (February 22, 1986) - Haas Confederate (named only on hardbound)
8. Auction #28 (May 3, 1986) - Haas Colonial Mails & Free Franks (unnamed)

---
Richard Frajola (June 2010)