---
Answers
---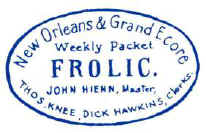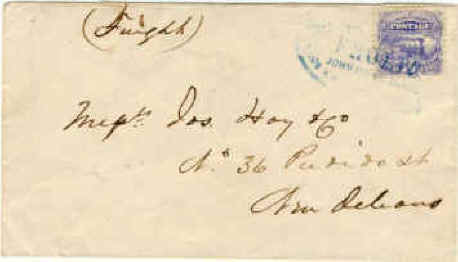 1. Where did this cover likely originate?
A. Can't tell
B. Someplace up the Mississippi River from New Orleans
C. Cuba
D. Someplace in the Gulf of Mexico or Caribbean
2. Where did this cover enter the US mails?

A. At New Orleans
B. On the Steamer Frolic
C. Can't tell
D. Didn't enter the US mails
3. What is the meaning of the "freight" endorsement at top?

A. The cover was carried as freight
B. It has no relevant meaning
C. The cover enclosed a letter regarding freight (probably)
D. Don't know if it has any relevant meaning
4. What stamp should have been used?

A. This is the correct stamp that should have been used
B. The 3c postal stationery issue
C. A 3c 1861 or 1867 issue stamp should be on it (this is a fake cover and stamp has been replaced
D. This is a late usage of the 3c 1869 stamp from the 1870's
5. How many similar usages of 3c 1869 issue with only a packet handstamp do you think exist?

A. Fewer than 5 (this is the only example I have record of)
B. Between 5 and 25
C. Between 25 and 100
D. Over 100
6. What do you think is a fair retail price on this cover?

A. Under $25
B. Between $25 and $100.
C. Between $100 and $500
D. Over $500
7. Bonus question - What should this cover look like?
All of the "Steamer Frolic" usages that I have ever seen are on 3c postal stationery. Shown below is an example from the 1977 Sotheby's auction of the Somdal collection of packet markings. The lot brought $40. Notice that it is addressed to the same party. I would estimate that 98% of packet handstamps on covers used after 1860 appear on postal stationery items.
8. Second Bonus question - Who was addressee?
Joseph Hoy & Company was the successor firm to Caroll, Hoy & Co. that was in existence prior to the Civil War and to whom many of the known Mississippi River packet covers are addressed.
Commentary:
The Steamer Frolic is listed in Lytle-Holdcamper List as a 296 ton steamer built in Wheeling in 1860 and in operation until 1873. It operated on the Mississippi and Red Rivers. Milgram reports this handstamp in blue as being used in 1869 as well as a cogged oval, found in black, also used in 1869.
The real key to this example is understanding that covers that bear only packet handstamps on them are privately carried and did not enter the government mail system at all. Different regulations applied to privately carried mail than applied to government mail. Many packet handstamped covers entered the government mails at a port for transmission further by the regular mails or for delivery by the post office.
This cover was carried outside of the United States mail system from someplace up the Mississippi River to New Orleans. It probably enclosed an letter and/or invoice that related to freight that was being carried on the same vessel. The postal regulations in effect in 1869 stipulated that mail carried privately had to be enclosed in government postal entires and prepaid with an amount equal to the postage if sent by government mails. The most common usage of adhesive stamps used to pay private carriage rates are as additional stamps on a 3c government envelope (such as a double rate letter having a 3c stamp used on a 3c entire - these are mostly found on Western Express covers).
If this cover contained a letter that did not deal with the contents of the Steamer, it would be classified as an illegal usage. If however, the cover only enclosed an invoice or only dealt with the freight, it was entitled to go free. These regulations were somewhat confusing and I suspect that this cover did enclose an invoice and was entitled to free carriage. Examples of adhesives used on mail carried privately, such as this, do exist but are rare.
---
Richard Frajola (October 8, 2001)