Ft. Vancouver to Cambridge in 1833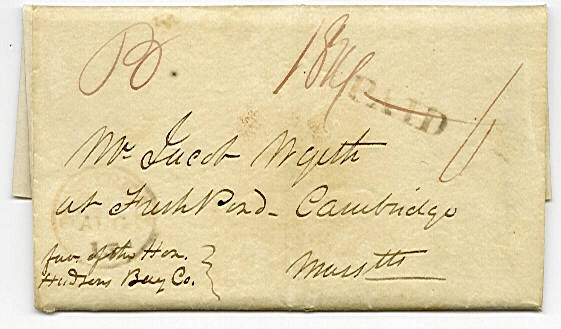 January 16, 1833 Letter From Ft. Vancouver to Cambridge, Mass.
The above folded letter may look rather ordinary but it is far from it. It contains a letter written by Nathaniel Wyeth at Fort Vancouver on January 16, 1833 addressed to his brother Jacob Wyeth in Cambridge, Massachusetts.
It is endorsed "Fav(or) of the Hon. Hudsons Bay Co." at lower left. The letter was carried by the Hudson Bay Company's courier to Montreal, Canada where it entered the mails on August 13, 1833. It received the Montreal postmark as well as the "Paid" and "6" (pence) rating which covered the charge from Montreal to the United States line. It entered the United States mails from a steamboat that had crossed via Lake Champlain and entered at Whitehall, New York. The red manuscript "B" signifies that it was received from a steamboat. The "18 3/4" cents due rating was applied at Whitehall for the postage from there to Cambridge, Massachusetts.
Nathaniel Wyeth was a noted fur trader who had continued west after the fur trade rendezvous at Pierre's Hole (Wyoming) in 1832. He was at Fort Vancouver in an attempt to reach an accommodation with Hudson Bay Company for supplies. This letter mentions his journey to the West Coast and plans for his return including "My party have now all left me, I have but two men whom I have hired to return with me, but do not think I shall go with these alone."
At this time the Hudson Bay Company operated periodic expresses between Fort Vancouver and their home base in Montreal. They did not charge for this service but mail on business matters was not permitted except for those in the service of the Company. The trip was accomplished on an overland route utilizing inland waterways where possible. The mails were carried mainly by Indians in their service.
---
Richard Frajola (April, 2000)