Pony Express Mail Stolen!
---
William Henry Jackson painting of a Pony Express rider being chased by Indians
In late May and early June, 1860 the Pony Express service was disrupted due to Indian depredations in Nevada which resulted in several of the weekly trips being cancelled. When the express was re-started, the service was increased to twice weekly. The cover shown below is, in my opinion, one of the most interesting Pony Express covers extant. One usually reads about how no mails were lost and of situations where the fearless Pony riders evaded their Indian predators. However, such was not always the case as this cover evidences. It was carried on the Pony Express trip which left San Francisco on July 21, 1860 . The mail pouch did not arrive in St. Joseph until almost two years later! The notation reads "recovered from a mail stolen by the Indians in 1860" and bears a New York backstamp of May 3, 1862 , the date when it was finally delivered in New York.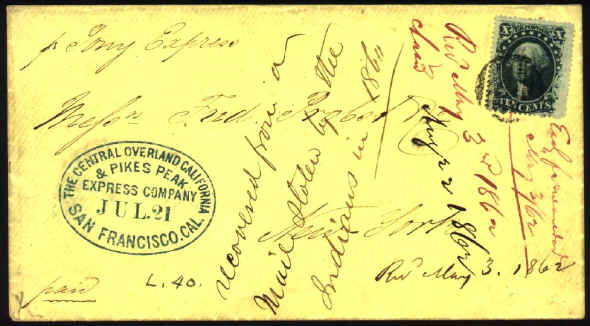 July 21, 1860 San Francisco by Pony Express "mail stolen by the Indians"
mail pouch found and delivered in New York in 1862
(Dale-Lichtenstein collection, courtesy H.R. Harmer, Inc.)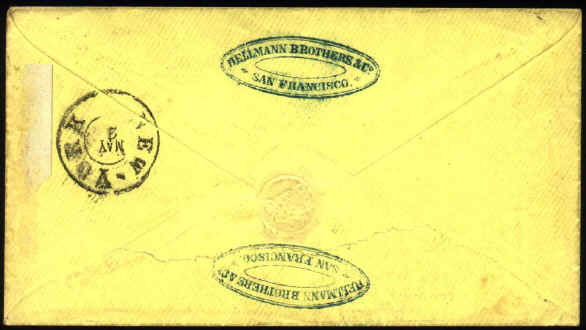 reverse of cover showing sender's cachet and "
New York
May 2 (1862)" arrival postmark

The only mention in print that I have been able to find about a Pony Express mail being stolen is in The Overland Stage to California by Root and Connelley which mentions:
"At times there would be a lively chase by Indians, but only once has there been mention made that he was overtaken. On this occasion the rider was scalped, but the pony escaped with the letter pouch, which was subsequently recovered out on the plains and the letters promptly forwarded to their destination."
The above cover is almost certainly a postal artifact of this incident. An interesting report of Howard Ransom Egan, a Pony Express rider serving the area in July, 1861, mentions in reference to his escape from Indians the week before the above cover was mailed, "Later I got it from some friendly Indians that there had been a trap set to catch an Express rider for the purpose of seeing what he carried to make him travel so fast." This may explain why the letters were not destroyed.
Another example of a cover carried on this fateful trip, probably in the same mochila, is also known. The second example has a manuscript endorsement for the Pony Express applied at a "way" office after departure from San Francisco and is dated July 22 (1860). An additional note put on in 1862 says "Recovered from a mail stolen in 1860" and is docketed by addressee as having been received on May 1, 1862 .
---
Richard Frajola (November, 2001)