---
A Sample "Opinion Service Report"
---
Information Supplied - This cover is lot #2261 in the R. A. Siegel, Inc. auction of November 15, 2000. It is described there as: 5c Buff (67), Vertical pair and two singles, fresh color, the two singles s.e. at right, tied by bold target cancels, "San Francisco Cal. Jul. 11, 1862" double-circle datestamp, on orange cover to Portsmouth, N.H., slightly reduced at right, Very Fine and choice, a scarce usage of the 5c Buff paying double rate from the west coast ...
E. 1,000-1,500.
Question - What is your opinion on this cover?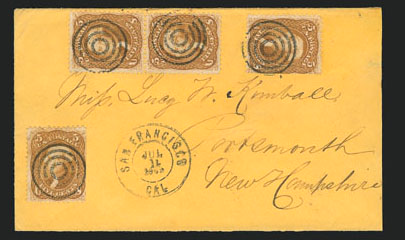 Summary Opinion with Warning: This cover appears to be a genuine usage of pair and two singles of the 5c buff. The cover has been reduced at right and one of the 5c stamps has been removed from top right of the cover and replaced at lower left in a position where it did not originate. I believe the value, if properly described, would be $750.
Opinions:
1. I have no problems that this is a correct usage of four copies of the 5c Buff shade paying double 10c rate from California to the east coast in 1862.
2. The reduction at right appears that it may be significant. It is hard to tell the exact extent without a scan of verso.
3. The stamp at lower left is not tied and appears to be in a peculiar location given the placement of the other stamps. The logical place would have been a sideways placement at top right of the cover. This is confirmed by the placement of the target at lower portion of the stamp. I did some scan manipulation as shown below. This shows more than adequate room for placement in the area of the cover reduction. I believe that this scan shows the appearance of the cover before being reduced at right and having one stamp moved.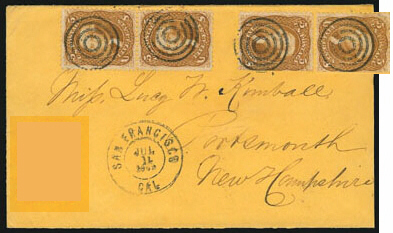 ---
Richard Frajola (November 7, 2000)