Birth Of The Navy
Machias (Maine) Committee Of Safety In 1775
---
Due to the paucity of material available for study, Revolutionary War period censorship practices are poorly documented. The folded letter shown below sheds some light on the situation in the fall of 1775 in Massachusetts Colony.
It is a folded letter from Barbados dated July 5, 1775 and addressed to Halifax, Nova Scotia. It is endorsed in another hand "By way of Rhode Island" at lower left. The verso is endorsed "Opened by order of the Committee of Safety for Machias - Jas. Lyon Ch. M."

Reverend James Lyon was the first minister of the Church of Christ at Machias. He was in Machias from 1771 until his death in 1794 and served as Chairman of the Committee of Safety for Machias during the Revolutionary War period.
These Committees of Safety existed throughout the Colonies at this time. Their functions varied but included important roles in the transmission of information between the patriot settlements. After the battle of Lexington on April 19, 1775 a famous express with news of the battle was initiated by General Joseph Palmer, a member of of the Massachusetts Committee of Safety at Watertown. This news was transmitted by an express rider who traveled to Philadelphia and stopped at towns along the route and reported to the local Committees.
Machias had been involved in the war effort since June 12, 1775 when a small sloop armed with woodsmen seized the schooner Margaretta of the Royal Navy in Machias bay. This event has been termed "The Birth Of The United States Navy" by some.
This letter may well have been carried into Machias by the Royal Navy ship Triton when it stopped there as a cartel ship to pick up sailors captured from the Margaretta. The letter was censored for content by James Lyon and then carried on to Halifax. The recipient docketed the letter as being received on September 20, 1775.
I have seen only three or four letters relating to any of the various Committees of Safety and those were addressed to, or were from members. This is certainly the only example extant of a usage between loyal British Colonies that was censored in the United States.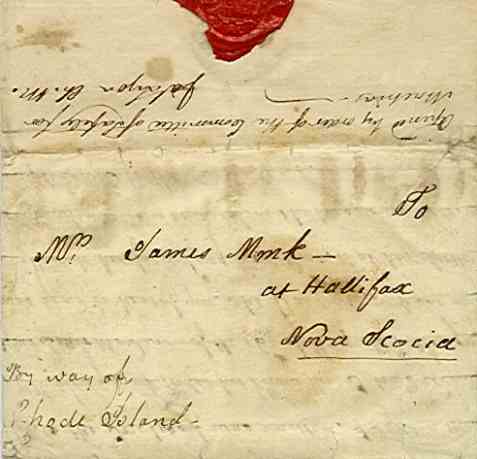 ---
My thanks to Dr. Karen Kimball and to Ms. Valdine Atwood for information regarding James Lyon
Richard Frajola (July, 2000)