---
1849-1850 Ceres Issue
1 franc vermillon vif tęte-bęche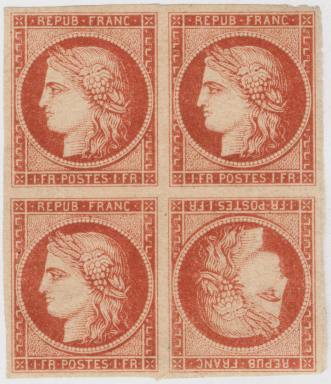 tęte-bęche, position 35, in unused block of four, plate 1, positions 24-35
Considered To Be The Premier Piece Of French Philately
Provenance:
ex Champion, Gil and Hilmer

In 1931 a mint block of twenty two 1 franc vermilion vif stamps was found between pages of a book in Bordeaux . The larger block was split and this tęte-bęche block preserved and subsequently acquired by Champion.

References:
Ceres #T7a, Yvert #7aa
SIPEX '66 exhibit catalog (part of the General Gill Grand Prix International collection)
ARPHILA '75 exhibit catalog
INTERPEX '76 exhibit catalog
PHILEXFRANCE '89 exhibit catalog (exhibited in Court of Honor)
ANPHILEX '96 exhibit catalog (exhibited in Aristocrats of Philately)
illustrated in 1997 William's "Encyclopedia Of Rare and Famous Stamps"
BELGICA '99 exhibit catalog

Census of unused:
block is the only reported example of error in vermilion vif shade

Production information:
Two plates of 150 were used, plate one had tęte-bęche cliché at position 35. A total of only 250 thousand stamps in the four vermilion shades were printed but 122 thousand were recalled. Only 850 tęte-bęche pairs were issued.
---