Langton's Express label from Carson City, Nevada Territory
The cover illustrated below was recently acquired as part of a Nevada Langton's Express collection formed by the late Mel Nathan. To my knowledge it has not been seen before publicly. It is a long, court house cover that enclosed legal documents and was sent from Carson City, Nevada Territory to the Yuba County Court House in Marysville, California in April 1863. It is docketed in red ink at left "Filed April 28, 1863" with the clerk's signature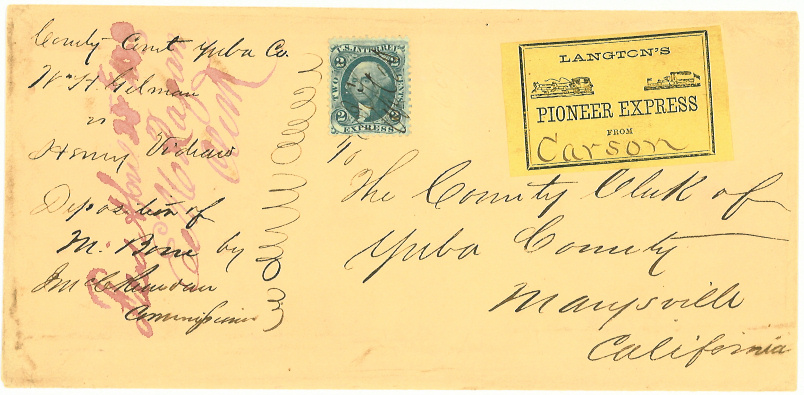 April 20, 1863 Langton's Express usage from Carson City, Nevada Territory to Marysville, California with 2c Express revenue
Although Carson City had a post office at this time, the bulk of the mail that contained valuable or important papers, was carried by Langton's Express. By July 1864 they were operating a twice daily service between Carson City and Marysville. As the express companies were permitted to carry valuable papers privately without using government postal entires, this cover was not required to have U.S. postal charges paid. Instead of the usual franked entires used for regular letter mail, the express companies employed labels. This cover bears a black on yellow label of Langton's Pioneer Express with the city name of Carson added in manuscript. Based on another label example used from Unionville, Nevada that was sent collect, the prepaid fee on this cover was most likely fifty cents.
In addition to the label, this cover also bears a 2c Express first issue revenue adhesive.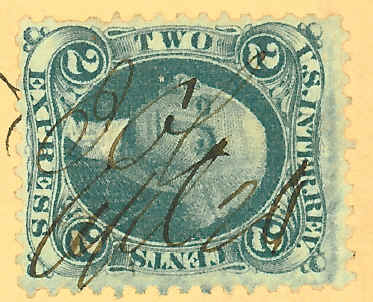 Revenue stamp with manuscript "J.C.L. Apl 20" cancel
The revenue stamp is cancelled with the "J.C.L" initials of the Langton's Express agent in Carson City, John C. Langton, and the date, April 20.
According to Michael Mahler's book, U.S. Revenue -Stamped Documents of the Civil War Era, an October 1, 1862 statute detailed when Express revenue stamps were to be used.
"Express. - For every receipt or stamp issued, or issued by any express company, or carrier, or person whose occupation it is to act as such, for all boxes, bales, packages, articles, bundles, for the transportation of which such company, carrier, or person, shall receive a compensation of not over twenty-five cents, one cent .... .01

When such compensation exceeds the sum of twenty-five cents, and not over one dollar, two cents ..... .02"
This statute was changed, effective April 1, 1863, and the tax was collected directly rather than by the use of stamps. Mahler mentions (page 96) that the requisite Express stamps were not generally available until December 1862. Therefore, the window of opportunity for the use of these stamps on Western Express covers, taking into account the time for transportation to the West, was less than four months. This cover is evidence that the news of the repeal of the statute had not reached Carson City as of April 20, 1863.
The use of an Langton's express label on a cover is exceptional with probably fewer than five known from any town, and this is probably unique from Carson City. This fact, coupled with the extreme rarity of revenue stamps used on any Western Express cover, makes this cover a minor jewel in the realm of Western Express covers.
---
Richard Frajola (February 1, 2006)