---
1849-1850 Ceres Issue
25 centimes bleu tęte-bęche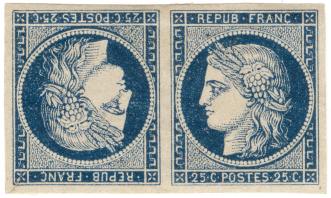 tęte-bęche, unused original gum pair, plate 2, positions 131-132
Provenance:




ex Ferrary (sale #11, lot 38: 22,000 FF), ex Loeuillet and Champion

References:
Ceres #T4, Yvert #4c
illustrated in 1954 Life Magazine article
illustrated in 2000 Yvert & Tellier Specialisé catalog

Census of unused:
block of ten
this example is one of two known pairs

Production information:
Three plates of 150 were prepared but only two were used, plate two had tęte-bęche cliché at position 131. A total of 45.2 million stamps were printed from both plates. Approximately 136 thousand tęte-bęche pairs were issued.
---