---
1849-1850 Ceres Issue
15 centimes vert tęte-bęche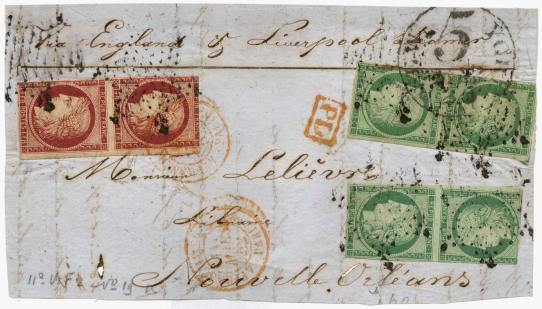 tęte-bęche pair on March 11, 1852 front to the United States, positions 80-90
Provenance:


ex Ferrary (sale #11, lot 19: 62,000 FF)

In 1896 this item was sold to Victor Robert, a leading Parisian dealer, by an American merchant who had a made the find of the Leličvre correspondence in New Orleans . It was purchased by Count Philipp la Renotičre von Ferrary for 7,500 francs, or four times the then-current price of a Post Office Mauritius stamp.

References:
Ceres #T2, Yvert #2d
PHILEXFRANCE '89 exhibit catalog (Dervin Grand Prix National collection)
illustrated in 1997 William's "Encyclopedia Of Rare and Famous Stamps"
illustrated in 1975 Yvert & Tellier Specialisé catalog
illustrated in 2000 Yvert & Tellier Specialisé catalog

Census:
this is the only reported example in any form of the 1849 15c tęte-bęche


the only unique tęte-bęche error of France

Production information:
Two plates of 150 used, plate two had tęte-bęche cliché at position 80. A total of 900 thousand stamps were printed from this plate. Only 6 thousand tęte-bęche pairs were issued.
---