---
1853-1860 Empire Issue
1 franc carmin tęte-bęche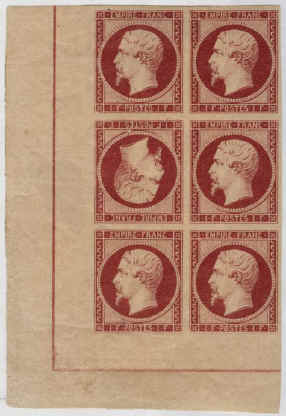 unused tęte-bęche marginal block of six, original gum, positions 131-152
Provenance:
ex Champion and Loeuillet

References:
Ceres #T18, Yvert #18b
ANPHILEX '96 exhibit catalog as part of "Lafayette" collection
illustrated in 1997 William's "Encyclopedia Of Rare and Famous Stamps"
illustrated in 2000 Yvert & Tellier Specialisé catalog

Census of unused:
block of six, this is largest reported multiple
block of four which is creased
pair in British Museum

Production information:
Two plates were used to print 900 thousand stamps. One plate contained a tęte-bęche cliché at position 131. Only 3 thousand tęte-bęche pairs were printed.
---