Adams Express "Adhesive" Stamps
Adams & Co. 25 cents stamps are listed in Scott's catalog as shown below from 2004 Specialized Catalog Of United States Stamps & Covers.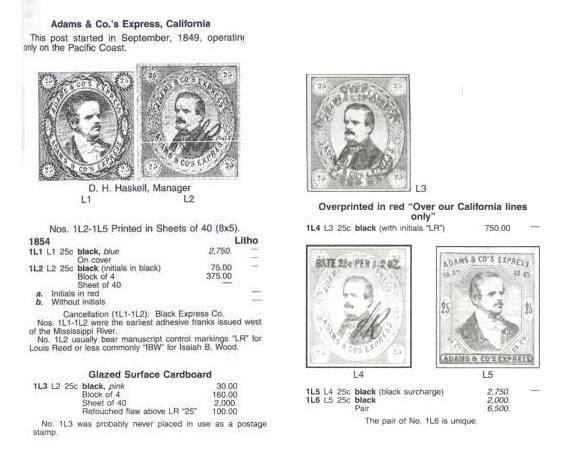 Reproduced from the Scott 2004 Specialized Catalog of United States Stamps & Covers. Copyright 2003
Scott Publishing Co., Sidney, OH 45365 and reproduced with their permission.
Examples of the listed stamps are shown in color below. All of the stamps bear a small inscription at the sides. At the left side, reading up - "Entered according to Act of Congress by I.C. Woods in the year 1853 in the Clerks" and continued on the right reading down - "Office of the District Court of the Northern District of California." Scott #1L2 and #1L3 were printed in sheets of forty stamps. There are no reported multiples of #1L1 and only a pair of #1L5.
| | | |
| --- | --- | --- |
| | | |
| #1L1 | #1L2 | #1L3 |
| | | |
| #1L4 | #1L5 | #1L6 |
I have been unable to locate any pre 1865 philatelic references to the stamps of Adams & Co. Express. The only early reference to the stamps is an 1854 circular described in "Philatelic Facts And Fallacies, Department Of Western Franks And Locals," By. H. B. Phillips published in 1894, on page 45. This circular was discovered in San Francisco in 1894.
"The following copy of a circular letter to agents will fully serve to fix the time and also the purpose of their 'Adhesive Postage Stamps'

No. 1583

Office Of Adams & Co.
Montgomery Street
San Francisco, Oct 26th, 1854
To Messrs. Adams & Co., Stockton

Gents - To facilitate our business operations, we have commenced the use of Express Postage Stamps as per sample enclosed. There is no direct profit in them to any one. You will please cash them whenever presented at the rate of 25c each and sell them at the same rate to pay postage and make small remittances.

You will, therefore, persuade parties sending small sums to use them. Although you will of course sell a check for any amount purchasers may wish, no matter how small, for we desire to be as accommodating as possible, but prefer the introduction of the Express Postage Stamps.

At present the arrangements extends to California and Oregon only. Please not use them in the Atlantic States business.

Yours, etc., (Signed) Adams & C0, per E. Hal _____"
From the above it seems clear that the 25c stamps (I think this circular refers to the #1L2 stamps) were primarily intended to be used as cash to send money by Express and as a substitute for money redeemable at all Adams offices in the West. If used to pay postage, they could have been taken as cash by Express Office as payment and not put on the envelope. This also fits into Adam's larger function as a bank and may also explain why the stamps bore initials as a countersign of validity and why the designs were entered at the District Court.
The initials found on these stamps include "ICW" initials of Isaiah C. Woods (rather than IBW as listed in Scott's) and "LR" initials of Louis Reed. I find no reference to a Louis Reed being associated with Adams and am not sure where this attribution originated. The 1852 San Francisco City Directory lists a "Lewis Reed" at an "oyster saloon" on Commercial Avenue.
This circular does not preclude the possibility of the stamps being affixed to letters to mailed. I think that, if the stamps were intended to be placed on letters as indication of prepayment of express fees, the circular would have made some mention regarding how an essentially negotiable security should be canceled. I have never seen what I consider to be a genuine usage of any of the Adam's stamps on cover.
I believe that the 25c stamps (#1L2) were distributed and used as a currency substitute. Undoubtedly unsold examples remained after the sudden close of Adams Express. The same design as #1L2 but printed on glazed card (#1L4) may be an un-issued printing or a reprint from the original plate. There is some anecdotal evidence that these stamps were used as poker chips in California.
The authenticity of the two overprinted stamps (#1L4 and 31L5) has been questioned in the past. The "Over Our California Lines Only" overprint was first reported in American Journal of Philately in February 1901. A story in Mekeel's Weekly of October 10, 1949 reports that in the 1890's:
The Adams plate (for #L2), and a large quantity of the stamps were owned by a French wine merchant, who, after holding the stamps for some time, and finding them slow of sale, surcharged them in red "Good Over Our California Lines Only". This fraud was discovered after the death of the owner by finding a rubber stamp among his effects with the label of a local rubber stamp manufacturer attached, who confirmed its previous sale.
This story, without further documentation, might seem suspect. However, I have a copy of a June 1, 1895 letter from H.B. Phillips to Sanford Taylor in San Francisco that expresses Phillips desire to see the holding of Adams Express sheets owned by Taylor. Taylor may be the person referred to in the article. The physical appearance of the overprint, particularly the color, would be consistent with production well after the 1855 close of Adams. If the same person owned a plate (it would have been a lithographic stone) for the stamps, it would seem that no stamps were printed from it.
The second style overprint, reading "Rate 25c Per 1/2 Oz," doesn't make much sense to me in that the stamps were not intended to be used on letters. I suspect, without any proof, that it is also a production from well after the close of Adams Express.
That leaves two additional very rare stamps to deal with (Scott #1L1 and #1L6). I don't know what to make of them. The only "used" example of either that I have seen appears on the fake "Wuesthof" cover shown on the page here. Because neither exist with manuscript initials, and may not be genuine issues at all, I would classify them as "status unknown" until further information can be discovered.
To summarize, I do not believe any of the listed Adams Express stamps did postal duty. I believe that #1L2 was issued as a currency substitute, #1L3 is an un-issued item, #1L4 and #1L5 are fake overprints, and the status of #1L1 and #1L6 is unknown.
My studies on the Adams newspaper stamps and the Adams envelope stamps are linked below.
For Adams Express history, see here.
For Adams "envelope" stamps, see here.
For Adams "newspaper" stamps, see here.
---
Richard Frajola (July 12, 2004)