Adams Express "Envelope" Stamps
Adams & Co. 25 cents and 50 cents "envelope" stamps" are listed in Scott's catalog. The 25c blue is listed as #1LU1 existing as a used cut square at $15,000 and the 25c black is listed as #1LU2 on #U9 with prices dashed in both mint and used condition. The 50c is listed as #1LU3 on US #U9 (3c red on white Nesbitt entire) at $2,500 mint and the same price used. The second listing is for the 50c on buff as #1LU4, presumably on 3c red on buff Nesbitt entire #U10, at $15,000 in used condition. A footnote mentions that #1LU3 exists as a cut out and used as an adhesive.
I believe that all of the envelope stamp listings should be removed from Scott catalog as I feel that they represent a fantasy produced in the 1870's and sold by a stamp dealer from New York named Wuesthof.
The two covers shown below are from the Alfred Lichtenstein collection.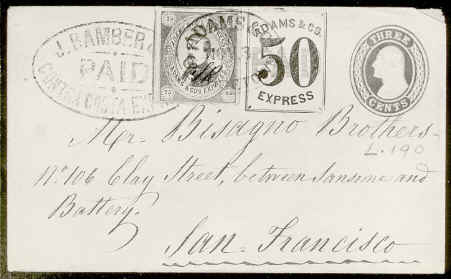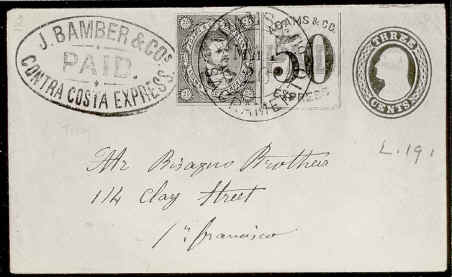 Both of the above conjunctive express covers can be traced to the 1890's having been purchased from H.B. Phillips. Both examples have the 50c Adams impressed on a 3c Nesbitt entire. Both are combinations with the 25c adhesive Adam's stamp. It should be noted that the J. Bamber Contra Express oval handstamps appear under the adhesive stamps.
According to Nathan's Franks Of The Western Expresses, J.W. Hoag, John Bamber and Charles Gable purchased interest in a Contra Cost Express in October, 1855. The express operations were not called "Bamber & Company Contra Costa Express" until 1858. These dates are both well past the demise of Adam's and Company which failed on February 23, 1855. A conjunctive express usage of those two companies is therefore impossible.
So, what we have in these two examples are genuine usages by Contra Costa Express, circa 1858, to San Francisco. These genuine usages have been "enhanced" by the application of the 50c Adams imprint, the addition of a 25c Adams adhesive stamp, and both tied by fake postmarks. It should also be noted that the first cover bears an orange red "Adams Georgetown Nov 3" postmark and the second item a black "Adams Sacramento May 26" postmark.
The above establishes the fact that the Adams imprints on these two covers was done after 1858. A notice that appeared in Collectors World, March 1879, Vo. 1, #7, page 51, by C.H. Coster noted:
"Adams & Co. Express, 25c Paid

Large type set affair, in a heavy rectangular frame. Black on white paper. Generally cancelled by an oval hand stamp reading Adams & Co., Nov 7, Georgetown.

Mr. Wuesthoff invoices this stamp to his foreign correspondents at $5.00."
Although the comments specifically regard the Adam's 25c stamp, I think they also hold true for the 50c types. The cancels on other fantasy products produced by Wuesthoff are often in a distinct orange red color. An example of this is shown below (the stamp used to illustrate the Scott's catalog) on a 25c Adams stamp as described by Coster except dated January 14. For a discussion of cancels found on Adam's stamps, see here.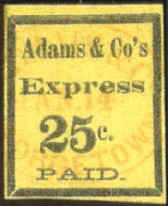 Likewise, the 50c cut out illustrated in the Scott's catalog is taken from the cover shown below. It is not a cut out from an envelope as the paper is wove rather than laid. The manuscript cancel is not contemporary with the postmark. According to an internal Adams & Co. letter dated October 26, 1854 the first stamps were distributed on that date. These stamps were, I believe, intended to be used as a kind of scrip for small change. As Adam's & Company failed in February, 1855 there is no chance a cover dated March 7th bearing stamps can exist genuine. The Adams Sacramento marking on this cover is genuine and differs from the fake example shown above in that on the genuine strikes the letters are less thin than on the fake.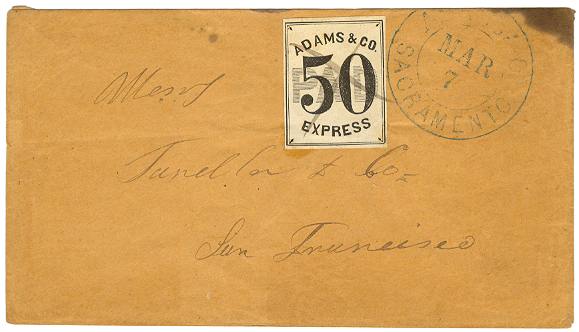 Wuesthof is reported by Coster to have sold several limited edition fantasy issues including Buffalo City Despatch Post and New Haven City Despatch. Many of his products bear the distinct orange red cancels that I have not seen on fakes other than those sold by Wuesthoff. I believe that the Adam's "envelope stamps" should be added to the list of fantasies. The Adams newspaper stamps need to be re-examined as well.
Adams Express "Adhesive" Stamps
The only contemporary reference to the use of Adam's 25c stamps that I have been able to locate is an 1854 circular from "Philatelic Facts And Fallacies, Department Of Western Franks And Locals, By. H. B. Phillips" published in 1894, on page 45. This circular was discovered in San Francisco in 1894.
"The following copy of a circular letter to agents will fully serve to fix the time and also the purpose of their 'Adhesive Postage Stamps'

No. 1583

Office Of Adams & Co.
Montgomery Street
San Francisco, Oct 26th, 1854
To Messrs. Adams & Co., Stockton

Gents - To facilitate our business operations, we have commenced the use of Express Postage Stamps as per sample enclosed. There is no direct profit in them to any one. You will please cash them whenever presented at the rate of 25c each and sell them at the same rate to pay postage and make small remittances.

You will, therefore, persuade parties sending small sums to use them. Although you will of course sell a check for any amount purchasers may wish, no matter how small, for we desire to be as accommodating as possible, but prefer the introduction of the Express Postage Stamps.

At present the arrangements extends to California and Oregon only. Please not use them in the Atlantic States business.

Yours, etc., (Signed) Adams & C0, per E. Hal _____" (probably
From the above it seems clear, to me at least, that the 25c stamps were primarily intended to be used as cash to send money by Express and as a substitute for money redeemable at all Adams offices in the West. If used to pay postage, they could have been taken as cash by Express Office as payment and not put on the envelope. This also fits into Adam's larger function as a bank and may also explain why the stamps bore initials as a countersign of validity.
This circular does not preclude the possibility of the stamps being affixed to letters to mailed. I think that, if the stamps were intended to be placed on letters as indication of prepayment of express fees, the circular would have made some mention regarding how an essentially negotiable security should be canceled. I have never seen what I consider to be a genuine usage of any of the Adam's stamps on cover.