| | |
| --- | --- |
| 1921 - Parcel Tag | |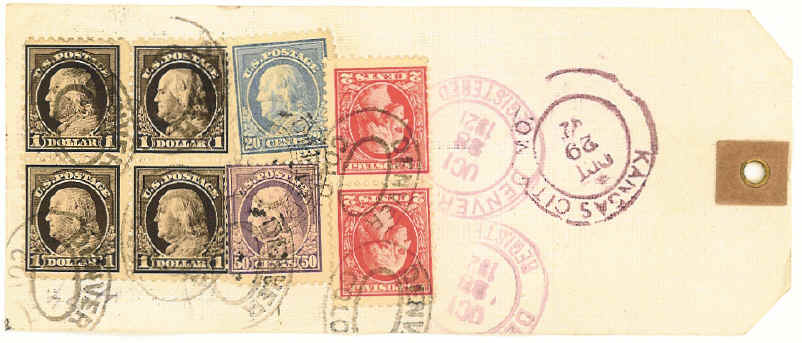 21 October 1921 Denver Federal Reserve Bank to Kansas City Federal Reserve Bank
parcel tag, total prepaid $4.74, 10c registry fee plus $4.64 postage for 232 ounces at 2¢ an ounce
e
This tag probably accompanied a parcel of gold coins being transferred from the United States Branch bank in Denver to their counterpart in Kansas City. If $20 gold coins were sent, the total would have been 175 coins.
    
1909 gold $5 Indian Head half eagle minted in Denver
e
The Indian Head half eagle coin was designed by Bela Lyon Pratt. The half eagle was minted between 1908 and 1914 in Denver. The use of incuse design and lettering on coins was limited to the quarter eagles and half eagles. showing Liberty's exposed breast, was first released in January 1917. In response to public outrage, the design was altered in July 1917.