| | |
| --- | --- |
| 1853 - Postal Stationery, Bulk Purchase | Great Britain Half Sovereign |
| | |
| --- | --- |
| | |
| price list of postal stationery envelopes | Nesbitt seal on reverse |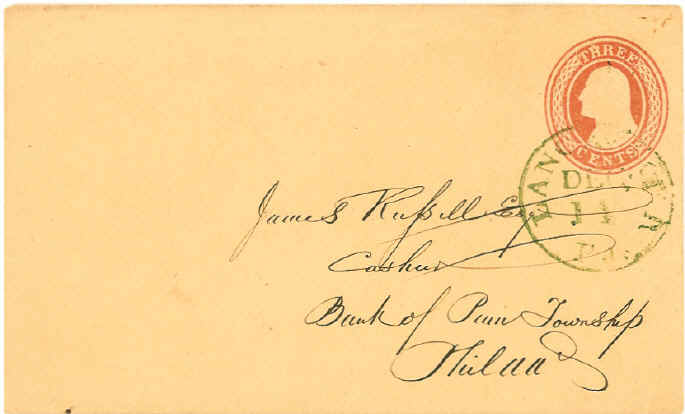 11 December 1853 Lancaster, Pennsylvania to Philadelphia, green postmark
3¢ postal entire with seal of the manufacturer, George F. Nesbitt, on reverse
e
The three cent envelopes issued in 1853 were the first postal stationery of the United States. These were manufactured by George Nesbitt & Co. and he placed his embossed seal on the reverse until ordered to discontinue the practice on July 7, 1853. These were intended to be purchased in bulk by business users at a slight advance over the imprint stamp value. A quantity of 75 of these would have cost purchaser $2.39.
      
1846 gold half sovereign (half pound) minted in the British Empire
e
The British gold half sovereign coins circulated as legal tender in the United States until 1857. The value in commerce varied with the value of the gold content but was approximately $2.40 in 1853.