| | |
| --- | --- |
| 1847 - 5¢ First Issue Adhesive | |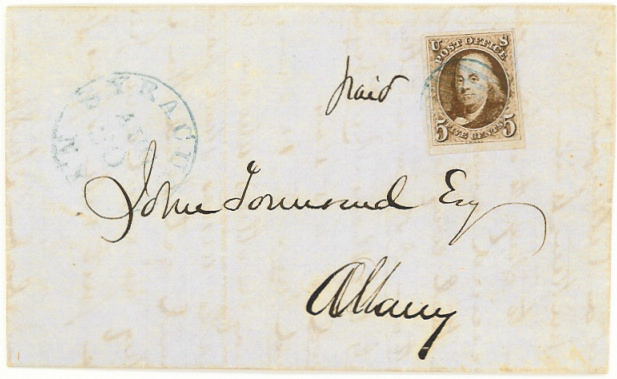 20 August 1847 Syracuse, New York City to Albany, New York
5¢ dark brown 1847 issue adhesive used to prepay the postage
e
The March 3, 1845 Act of Congress, effective July 1, 1845, reduced the postal rate for a single letter sent up to 300 miles to five cents. The first 5¢ stamp was issued in July 1847 for prepayment of this postal rate.
        
1847 half dime minted in Philadelphia
e
The Christian Gobrecht design, Liberty seated, half dime coin was introduced in 1837 and remained in use with only minor modifications until February 21, 1853 when silver content value was reduced.