| | |
| --- | --- |
| 1841 - Republic of Texas Rates | Republic of Texas $1.00 Note |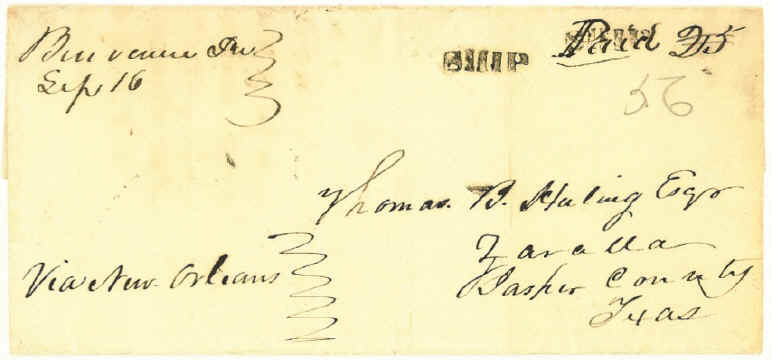 16 September 1841 Benvenue, Pennsylvania to Zavalla, Texas Republic, paid 25¢ to New Orleans
forwarded by ship to Galveston with Texas ship rate of 6¼¢ plus 50¢ rate to Zavalla, 56¼¢ total due
e
The postal service of the Republic of Texas, in operation from December 7, 1835 until December 29, 1845, employed postal rates based on the Spanish coin fractions. A forwarding agent resident at New Orleans forwarded mails to and from the United States. The cover above bears a Wm. Bryan, Agent of the Texian P.O., New Orleans oval backstamp.

$1.00 Republic of Texas note
e
The Republic of Texas $1.00 notes were authorized by an Act of December 14, 1838 and were redeemable only for promissory notes. They circulated at less than face value except when used for Republic debts, such as postal charges.