| | |
| --- | --- |
| 1849 - 40¢ California Rate + Express Fee | France 5 Franc + Spanish Colonial Gold |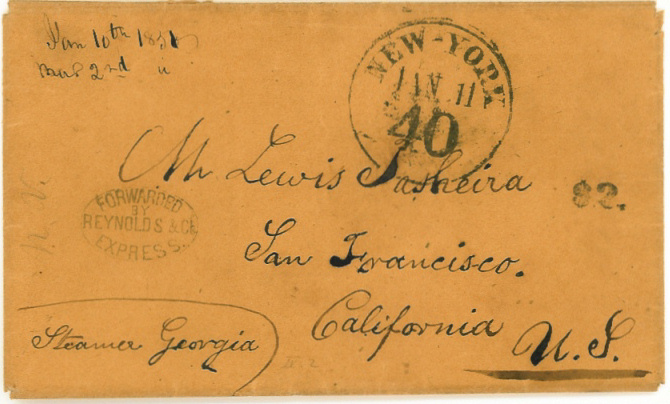 11 January 1851 New York City to San Francisco, California, unpaid 40¢ rate
by Reynold's Express from the post office to the Southern Mines collect $2 handstamp
e
Mail service to San Francisco commenced in 1849 and the rate for letters from the East was 40¢. At San Francisco this letter was picked up by Reynold's Express and taken to the addressee at the mines. The $2 charge included the 40¢ postage due that Reynold's had paid when they picked up the letter.
      
                  
1840 France five francs coin

1814 half escudo gold minted in Mexico City

e

The actual value of each of these coins was 93¢. However, both circulated widely in California at the rate of $1 each. The 1847 Donner Party to California carried large numbers of French 5 franc pieces as excavation at the site has shown.