| | |
| --- | --- |
| 1815 - 25½¢ War Surcharge Rate | United States Half Cent + Spanish Two Reales |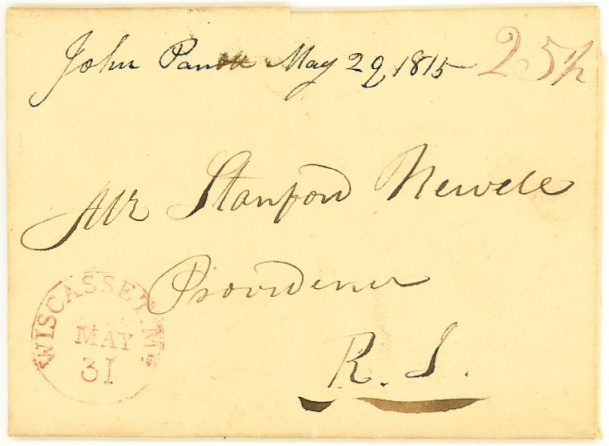 31 May 1815 Wiscasset, Mass. (District of Maine) to Providence, Rhode Island, 25½¢ due rate in manuscript
e
The 25½¢ war surcharge rate applied for distances between 150 and 300 miles. This rate was only in effect between February 1, 1815 and March 31, 1816 and reflects a fifty percent increase over previous rate.
    
                        
1800 one half cent coin minted in Philadelphia

1762 2 reales minted in Mexico City

e
The United States one half cent coins were minted between 1793 and 1836. The Robert Scot "draped bust" design was introduced in 1800. The two reales pillar coins circulated in the United States at a value of 25 cents. In 1815, the Spanish 2 reales coin had legal tender status, while the United States half cent did not.