| | |
| --- | --- |
| 1836 - 75¢ Government Express Mail Rate | United States Half Dollar + Spanish Colonial 2 Reales |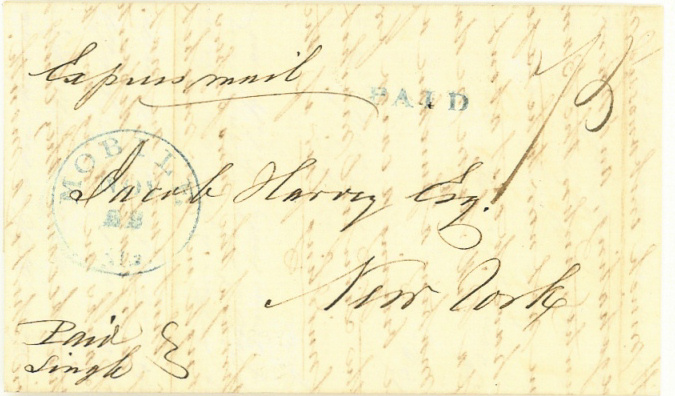 21 November 1837 Mobile, Alabama to New York City, 75¢ (25¢ normal distance rate times three) prepaid
e
An Act of July 2, 1836 authorized an express mail service. For triple the ordinary rate of postage a letter could be carried by expedited service over certain Eastern postal routes. From November 1, 1837 until the service was discontinued in 1839, such mail had to be endorsed "Express Mail" and fully prepaid.
    
                        
1837 half dollar minted in Philadelphia

1774 2 reales minted in Mexico City

e
Steam presses were first used for minting United States coins in late 1836. The reeded edge 50¢ coins were the first produced. The reverse legend was altered to "half dollar" in 1838. The two reales portrait coins circulated widely in the United States and had a value of 25¢.