Philamercury Digital Rendezvous 2016 (PDR2016)

In an effort to promote philatelic exhibiting, I am please to announce a one frame (16 pages) online philatelic competition - Philamercury Digital Rendezvous (PDR-2016).

The deadline for exhibit submission is end of day October 1, 2016. No rules as to content, open to all, no exhibit fees and with awards by vote of fellow exhibitors. Awards to be determined. Submission guidelines here. Voting will end on October 7th and winners will be announced. In the event of tie votes, the earliest exhibit to reach the highest vote count will be the winner.
Awards will be a 2016 gold Mercury dime.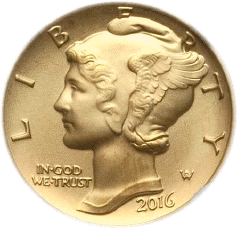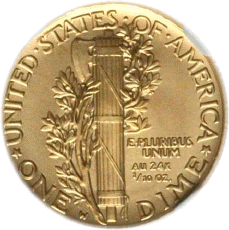 Three to be awarded:
1.) Best in Show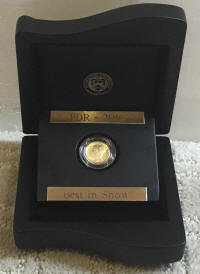 2.) Best in Show (to a first time one frame exhibitor)
3.) Most Enjoyable

And the winners are:
palmares PDF here

Best In Show - Steve Walske exhibit #6
Best in Show, First Time Exhibitor - George Tyson exhibit #80
Most Enjoyable - Andrew Reid exhibit #79
Sponsor's Special Prize of Merit - Rebecca Liebson exhibit #5

A listing of exhibits follows (first time exhibitors listed in red):
---
| | | |
| --- | --- | --- |
| | Exhibitor | Exhibit Title (with link) |
| #1 | Barry Jablon | The 3¢ Postage Stamp of 1869 |
| #2 | John Bowman | Overton and Company - Independent Mail, 1844-1845 |
| #3 | Paul Bearer | Edged in Black, Mourning Covers in the Confederacy |
| #4 | Barry Jablon (2) | Auxiliary Marks of the 3¢ 1869 |
| #5 | Rebecca Liebson | The 8.4 Cent Americana Piano Coil |
| #6 | Steve Walske | The Transcontinental Pony Express: April 1860 to October 1861 |
| #7 | Scott Trepel | The Twisted Mind of a Philatelist |
| #8 | Nick Kirke | New York City Foreign Mail Fancy Cancels 1873 - 1875 |
| #9 | John Bowman (2) | 2¢ "Liberty Head" US Revenue Tax Stamp, 1875-1883 |
| #10 | Michael Schreiber | Postal Stationery of Nicaragua: The American Bank Note Co. Postal Cards of 1878 - 1889 |
| #11 | James Myerson | The Battle of Hampton Roads |
| #12 | Fran Adams | |
| #13 | Ken Lawrence | Wake Island in World War II |
| #14 | Dan Ryterband | The American Civil War: Through-The-Lines Prisoner Mail |
| #15 | John Wilson | Trading with the enemy |
| #16 | John Wilson (2) | Prisoner of war airmail |
| #17 | Roland Austin | Single and Multiple uses of the 1954 Liberty series 2c Thomas Jefferson |
| #18 | Roger Heath | Swiss Flexible-Head 'Razor' Cancelers |
| #19 | Ken Lawrence (2) | On the Postal Trail of the Atomic Bomb |
| #20 | David Handelman | Returned from the DEAD |
| #21 | Richard Drews | The Large Map Issues of the Lundy & Atlantic Coasts Airlines Ltd. |
| #22 | Richard Drews (2) | Atlantic Coast Air Services "Tramtickets" for Lundy Island |
| #23 | Richard Drews (3) | My 3 Cents Worth |
| #24 | Bob Watson | Airmails from New Zealand to the United States 1930 - 1953 |
| #25 | Larry Haber | Britain Goes Decimal |
| #26 | Matt Liebson | United States Postal Savings Certificates, 1911 - 1967 |
| #27 | Roger Heath | Made in Switzerland: Foreign Cancelers Manufactured by Guller of Huttikon |
| #28 | Genl. Bim Erit | A Nepal Philatelic Food Feast |
| #29 | Greg Shoults | Washington & Franklin Rotary Press Coil Waste 1919-1922 |
| #30 | Daniel Knowles | Union Handling of the Mail During the American Civil War |
| #31 | Mark Schwartz | The Postal Markings of Newbury and Newburyport, Mass. during the Stampless Period: 1755 - 1855 |
| #32 | John Wilson (3) | Wake the ebay Way, How to display without really trying |
| #33 | David Handelman (2) | Avis de réception (AR) in the British Isles |
| #34 | Richard Taschenberg | The 30 Cent Nesbitt Envelopes of 1865 |
| #35 | François Krol | Genève |
| #36 | Ken Stach | A Selection of Western Express Covers |
| #37 | Ken Stach (2) | The Frank D. Everts Expresses – 1850 to 1862 |
| #38 | Sandeep Jaiswal | Kotah -19th Century Dual Postal System |
| #39 | Sandeep Jaiswal (2) | SHAHPURA - A newly discovered stamp issuing Indian Princely State |
| #40 | Sandeep Jaiswal (3) | The First Issue of Jaipur |
| #41 | Larry Maddux | Oregon Territory Mail, 1847-1859 |
| #42 | David New | Colorado Postal History |
| #43 | Ronald Klimley | The 1954 Liberty Series - "Just" the 1¢ George Washington |
| #44 | Ray Porter | New York City Cancellations Used on Banknote Postage Dues |
| #45 | Steve Walske (2) | Mail from Besieged Paris in 1870-1871 |
| #46 | Russ Ryle | Selling Indiana, Hoosier Civic Advertising Covers |
| #47 | Russ Ryle (2) | The History in Postal History, Laurenceburgh, Indiana, 1806 to 1829 |
| #48 | Russ Ryle (3) | Rising Sun, Indiana, Stampless Covers |
| #49 | Don Chafetz | Razzle Bedazzl'd Magazine |
| #50 | Steve Walske (3) | Civil War Blockade of the Southern Coasts |
| #51 | Darrell Ertzberger | The Libyan Sybil: Six Definitives of Italian Libya 1924-1943 |
| #52 | Darrell Ertzberger (2) | Rural Free Delivery in Rockingham County, Virginia |
| #53 | Matt Liebson (2) | The Cleveland Circuit R.P.O., 1908-1919 |
| #54 | Lars Boettger | The "POSTES RELAIS" Cancellations of Luxembourg |
| #55 | Bill Williges | New Zealand WWl Internment Camp Mail |
| #56 | Fran Adams (2) | The Mesozoic Times - Where Prehistory Meets Philately |
| #57 | John Barwis | Crimean War's impact on mail from Australia, 1855-1857 |
| #58 | Dave Kent | Austrian Battleships in World War I |
| #59 | Ken Stach (3) | Fort Randall, Dakota Territory |
| #60 | Ken Stach (4) | Red Cloud's War |
| #61 | Dave Kent (2) | |
| #62 | Lavar Taylor | |
| #63 | Jerry Wells | Common Mail from Uncommon Times |
| #64 | Bill Williges (2) | Solano Counties Two State Capitols - Benicia & Vallejo Local, Express & Early Postmarks |
| #65 | David New (2) | MISSOURI - Gateway to the West |
| #66 | Cliff Alexander | Anthrax Attacks Postal History |
| #67 | Ray Porter (2) | Banknote Postage Due Varieties |
| #68 | David Handelman (3) | Parcel cards from and to Canada |
| #69 | Mike Gutman | Harrisburg(h) Pennsylvania Precancels |
| #70 | Phil Rhoade | Use of the 1955 U.S. Certified Mail Stamp |
| #71 | Gerald Ellot | The Royal Navy in the Crimean War |
| #72 | Gerald Ellott (2) | BONZO, The Dog That Made the World Laugh |
| #73 | John Becker | The Slogan Machine Cancels of Perry's Victory Centennial |
| #74 | Phil Rhoade (2) | Bohemia & Moravia: Hidden Patriotic Messages |
| #75 | Phil Rhoade (3) | Alfons Stach: WWII Era Czech Stamp Dealer |
| #76 | Alexios Papadopoulos | Commercial Zeppelin Letter Mail to/from South America in 1936 |
| #77 | Len Piszkiewicz | The National Letter-Return Association of Chicago |
| #78 | Matt Liebson (3) | The Ohio Farmers Insurance Company, 1848-1900 |
| #79 | Andrew Reid | Great Britain combination Covers to Overseas Destinations 1847-56 |
| #80 | George Tyson | How They Carried the Mail in America, 1850 - 1870 |
| #81 | Chip Gliedman | A Sense of Place: Maps and the Mail Manifest Destiny through The Civil War |
| #82 | Chip Gliedman (2) | The Chips Covers –The Postal History Legacy of a Wells Fargo Expressman |
| #83 | Jane Sodero | Milford House - A Rustic Resort for over a Century, South Milford, Nova Scotia |
| #84 | Jane Sodero (2) | The Postal Markings of Guysborough, N.S. 1838 - 1937 |
| #85 | David Snow | Hale & Co. Independent Mail |
| #86 | James Myerson (2) | The Life and Times of John Rodgers, The First Barbary War, 1801 - 1805 |
| #87 | Ken Lawrence (3) | Baseball |
| #88 | Chip Gliedman (3) | The Children of Gin Lane |
| #89 | Andrew Reid (2) | TWO BLUE: Overseas Mails with the Two Penny Blue Plates 3 and 4 |
| #90 | Mike Ellingson | The Barr-Fyke Machine Cancels of Mexico 1900-1908 |
| #91 | David D'Alessandris | Cross-Border Mail via the Cunard Line: Mail Carried Between the United States and Halifax, 1- 1867 |
| #92 | David D'Alessandris (2) | Revenue Stamps of the Stamp Act of 1765 |
| #93 | Rob Faux | 24 cent 1861 Adhesive Paying Treaty Services to the United Kingdom |
| #94 | Andrew Reid (3) | The 1841 1d. Re(i)d A Postal History Tribute to Dr. David S. Reid |
| #95 | David Snow (2) | The 1876 Centennial Exposition Issue of Postal Entires: A Study of Uses |
| #96 | Ed Grabowski | The Era of the French ColonialGroup Type: Obock |
---
Richard Frajola (Oct 7, 2016)